ABOUT ME
I am an independent Writer and Director of Film and Theatre. My work includes the award-winning 'Call It a Day' (Winner of Best Dramedy Award - BNM Web Fest 2020), 'Say Your Name' (Nominated for Best Director and Best Actress - Unrestricted View Film Festival 2019); 'Those of Us' (Winner of Best Film - Bute Street Film & Art Festival 2020) and 'She's Just a Girl and So Am I'' (Winner of Best Silent Film - Oniros Film Awards 2019). 'Poles' is my latest short film, which received a Best Sound nomination at the BAFTA Qualifying Underwire Film Festival 2022 and has already picked up awards for Best Actress, Best Cinematography and nominations for Best Director at other notable festivals.
As a writer I worked on the Oscar and BAFTA Qualifying 'I Am Pilate' starring Shaun Scott and directed by Femi Oyeniran; LGBTQ drama 'Soft Hands' (Winner of Best Actor and Best Supporting Actor - Fusion International Film Festival 2020 and Best Drama Film - Europe Film Festival 2021); 'I Am Mary' directed by Sheila Nortley and the Film London Microwave shortlisted feature film 'Beneath the Mind'.
In 2022 I was selected for the 'Casualty' Directors' Scheme; shortlisted for the Original Voices writers scheme on 'Emmerdale' and delivered a Masterclass on Directing Actors at Edge Hill University.
I made my theatre directing debut in 2022 with a new stage play of 'Uncle Vanya' which ran for two weeks at the Old Red Lion Theatre. (Broadway World Review ****)
Currently I'm in development on my feature debut and will write and direct a new short film produced by Candid Broads Productions.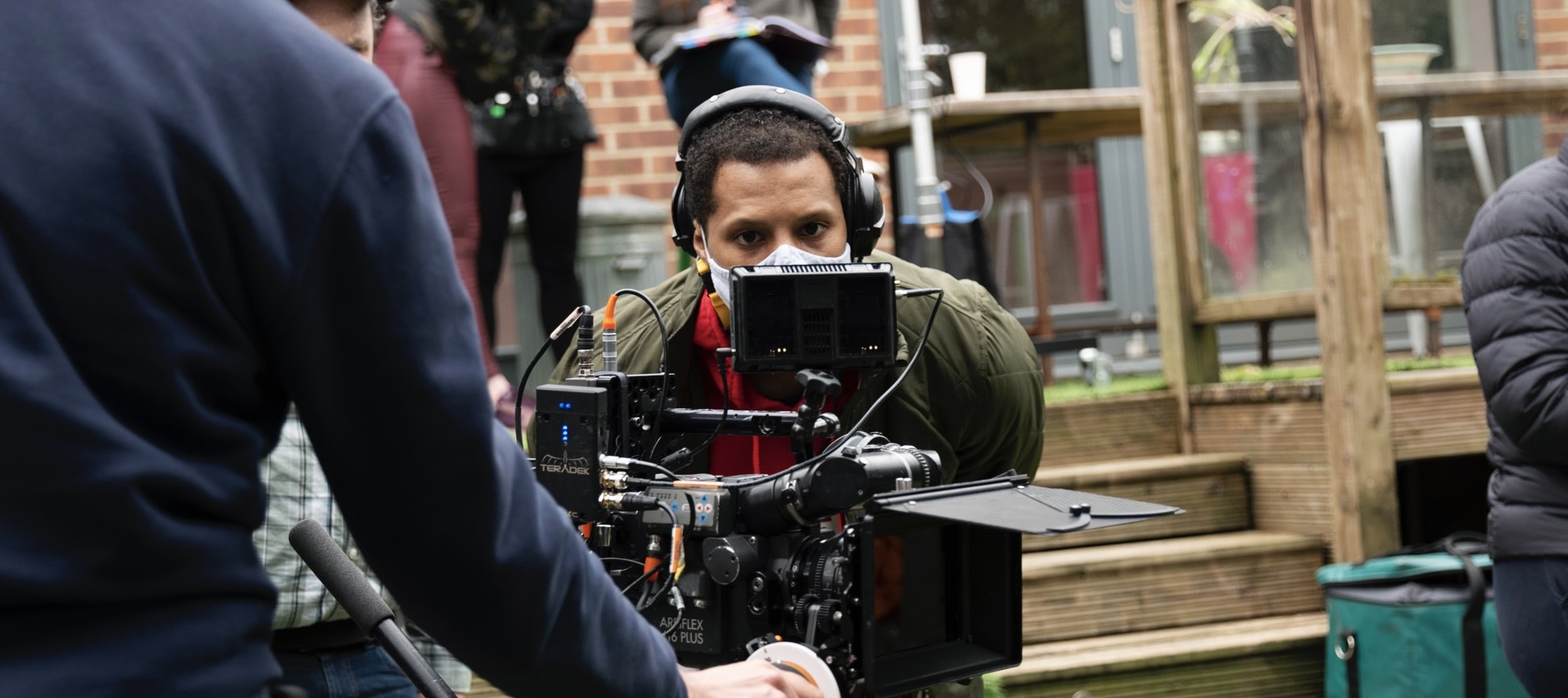 Development

Arthur (& Clara) Writer (Feature)

The Liaison Writer (Feature)
Amos Writer (Feature)
THERAPY Writer/Director (Short Film)
Candid Broads Productions
Productions
Uncle Vanya Director (Theatre)
Old Red Lion Theatre
Casualty Shadow Director (TV)
Duncan Roberts and Piotr Szkopiak, Directors
BBC
Eastenders Shadow Director (TV)
Ian Barnes, Director
BBC

Poles Writer/Director (Short Film)
Candid Broads Productions
Official Selection Kingston International Film Festival 2022
Official Selection Unrestricted View Film Festival 2022
- Nominated for Best Director
-Nominated for Best Actress
- Nominated for Best Sound
- Nominated for Best Soundtrack
Official Selection Underwire Film Festival 2022*
- Nominated for Best Sound
(BAFTA Qualifying)
Official Selection Paris International Short Festival 2021
- WINNER Best Cinematography
Official Selection Oniros Film Awards 2021
- Nominated for Best Short Film
- WINNER Grand Jury Award Best Actress
- Honourable Mention: Best Director

I Am Mary Script Editor (Short Film)
Sheila Nortley, Director
Four8

Casualty Shadow Director (TV)
Steve Kelly, Director
BBC
I Am Pilate Writer (Short Film)
Femi Oyeniran, Director
Four8
Official Selection Greater Cleveland Urban Film Festival 2020
Screen Nation Digital Media Awards 2020
- Special Mention: Distinction in Production
Official Selection S.O.U.L Fest 2020*
(BAFTA Qualifying)
Flickers' Rhode Island International Film Festival 2020 - Semi-Finalist
Official Selection Bolton International Film Festival 2020*
(BAFTA Qualifying)
Official Selection Norwich Film Festival 2020*
(BAFTA Qualifying)
Official Selection Birmingham Film Festival 2020
- Nominated for Best Online Film
Official Selection Coronado Island Film Festival 2020
Official Selection British Urban Film Festival 2020*
(BAFTA Qualifying)
Official Selection Disappear Here Film Festival 2020
Official Selection HollyShorts Film Festival 2020*
(Oscar Qualifying)

Doctors Shadow Director (TV)
Steve Kelly, Director
BBC

Call It a Day Director (Web Series)
Candid Broad Productions
Official Selection UK Offline Webfest 2020
- Nominated for Best Web Series
Official Selection Ramsgate International Film & TV Festival 2020
Official Selection Pilot Light TV Festival 2020
- Nominated for Best Web Series
Official Selection Oniros Film Awards 2020
- WINNER for Best Web Series
- WINNER Grand Jury Award Best Actress
- Nominated for Best Series Pilot
- Nominated for Best Actress
Official Selection New York Movie Awards 2020
- Honourable Mention: Best Web/TV Series
- Honourable Mention: Best Original Song
Official Selection Santa Monica Web Fest 2020
- Nominated for Best Drama Series
Official Selection Seoul Web Fest 2020
- Nominated Best Dramedy
- Nominated Best Screenplay
Official Selection Unrestricted View Film Festival 2020
- Nominated for Best Web Series
- Nominated for Best Actress
-Nominated for Best Actress
- Nominated for Best Director
Official Selection Brighton Rocks Film Festival 2020
-Nominated for Best Comedy
Official Selection The Web Series Filmmaker Showcase 2020
Official Selection New Jersey Web Fest 2021
- Nominated for Outstanding Dramedy
- Nominated for Best Actress in a Drama
Official Selection Topaz Film Festival 2020
Official Selection LA Women in Film Festival 2020
Official Selection Bilbao Series Land 2020
- Nominated for Best Dramedy
- Nominated for Best Ensemble Cast
Official Selection BNM Web Fest 2020
- WINNER for Best Dramedy
Official Selection Rio Web Fest 2020
- Nominated for Incentive to International Digital Production
Official Selection Festival Angaelica 2020
Official Selection London Lift-Off Film Festival 2020
Official Selection New York Lift-Off Festival 2020

In Utero Co-Writer/Director (Short Film)
FITA Films
MK Film Network 48hr Film Challenge

Ovulate Director (Short Film)
ItsOriane Ltd

Sorted It Director (Short Film)
ItsOriane Ltd

She's Just a Girl and So Am I Writer/Director (Short Film)
FITA Films
Official Selection Madrid Indie Film Festival 2019
- Nominated for Best Featurette
Official Selection Oniros Film Awards 2019
- WINNER for Best Silent Film
Say Your Name Writer/Director (Short Film)
ItsOriane Ltd
Official Selection Oniros Film Awards 2019
- Nominated for Best Short Film
- Nominated for Best Actress
Official Selection Unrestricted View Film Festival 2019
- Nominated for Best Director
- Nominated for Best Actress
The People's Short Film Festival 2019 - Semi-Finalist
Official Selection Dumbo Film Festival 2020
- Nominated Best Short Narrative

Those of Us Writer/Director (Short Film)
Urban Crane Films
Official Selection VOB Film Festival 2019
Official Selection Under The Stars International Film Festival 2019
Official Selection East Coast Film Festival 2019
- Nominated for Best Short
Official Selection International Short Film Festival Pune 2019
Official Selection Bute Street Film Festival 2020
- WINNER Best Film
Official Selection Unrestricted View Film Festival 2020
- Nominated for Best Screenplay

Soft Hands Writer (Short Film)
DJK Films
Official Selection West Europe International Film Festival 2019
- Nominated for LGBTQ Award
- Nominated for Best Supporting Actor in a Short Film
LA Cinefest 2019 - Semi-Finalist
Official Selection Rainbow Umbrella Film Festival 2020
Official Selection North Europe International Film Festival 2020
- WINNER for Best Leading Actor in a Short Film
- Nominated for LGBTQ Award
- Nominated for Best Supporting Actor in a Short Film
Official Selection South Europe International Film Festival 2020
- Nominated for LGBTQ Award
- Nominated for Best Original Screenplay of a Short Film
- WINNER for Best Supporting Actor in a Short Film
- Nominated for Best Lead Actor in a Short Film

Just Saying… Co-Writer/Director - 3 Episodes (Web Series)
ItsOriane Ltd
LA Cinefest 2019 - Semi-Finalist
Official Selection Unrestricted View Film Festival 2019
- Nominated for Best Web Series

Finesse (Refix) - Lucien Moon Director (Music Video)
Urban Crane Films
See You When Winter's Over - Ione Director (Music Video)
Urban Crane Films
I Love You - Kam Singh Director (Music Video)
Urban Crane Films

Recollections: August, 1957 Writer/Director (Music Video)
FITA Films

The Wife Writer/Director (Short Film)
Filmbourne/Ozone Productions
…and counting Writer/Director (Short Film)
Filmbourne
The Pale Cast of Thought Writer/Director (Short Film)
Filmbourne

William Shakespeare's Venus & Adonis Writer (Short Film)
Lui Films
Cannes Film Festival 2015 - Courts Métrages

Free in the Afternoon Writer/Director (Short Film)
XXI Productions
Cannes Film Festival 2015 - Courts Métrages