Kieran Bourne is an Award-Winning Film Director and Screenwriter.
Kieran was part of the Film London Microwave 2016/17 selection which included some of the most exciting filmmakers to come out of the scheme such as Kate Herron (Sex Education, Loki), Merlin Merton (Butterfly Kisses), Alice Seabright (Screen Star of Tomorrow 2019, Sex Education), Alex Winckler (My Mad Fat Diary, This Way Up), BAFTA Nominee Nat Luurtsema and Ella Bennett (Last Leg, Sore Thumbs Stick Out).

As a director he's completed nine genre-spanning short films including the controversial 'Say Your Name'; the engrossing comedy/drama 'Those of Us' and silent comedy 'She's Just a Girl and So Am I', all of which accrued a number of award nominations during the festival circuit of 2019/20. He was a co-writer on the multi-award nominated LGBTQ+ short drama 'Soft Hands'.

He directed three episodes of the flat share based comedy web series 'Just Saying' (Best Web Series nominee at Unrestricted View Film Festival) which is now available on Amazon Prime.

Kieran directed the original six-part short form series 'Call It a Day' which debuted in 2019. The YouTube channel attracted over 7000 views in its first week.

Over the years he has developed and written screenplays with a range of filmmakers including Hollywood Stunt-Coordinator Marcus Shakesheff (Wonder Woman, Batman: Arkham Asylum), David Newton (Star Wars: The Last Jedi, Game of Thrones) and award-winning director Ella Bennett (Last Leg, Dust).

Mentored by screenwriter Brock Norman Brock (Bronson, Yardie), Kieran became a full member of the Writers' Guild of Great Britain in recognition of his screenwriting work for feature film and television. He is in development on three feature films as a screenwriter and also in the process of writing an original series.

Continuing both as a collaborative screenwriter and a freelance director, Kieran demonstrates the dedication and commitment that has allowed him to be effective across a variety of disciplines.
Download CV
Member of Directors UK https://directors.uk.com
Member of the Writers' Guild of Great Britain https://writersguild.org.uk
Film London Microwave Alum http://filmlondon.org.uk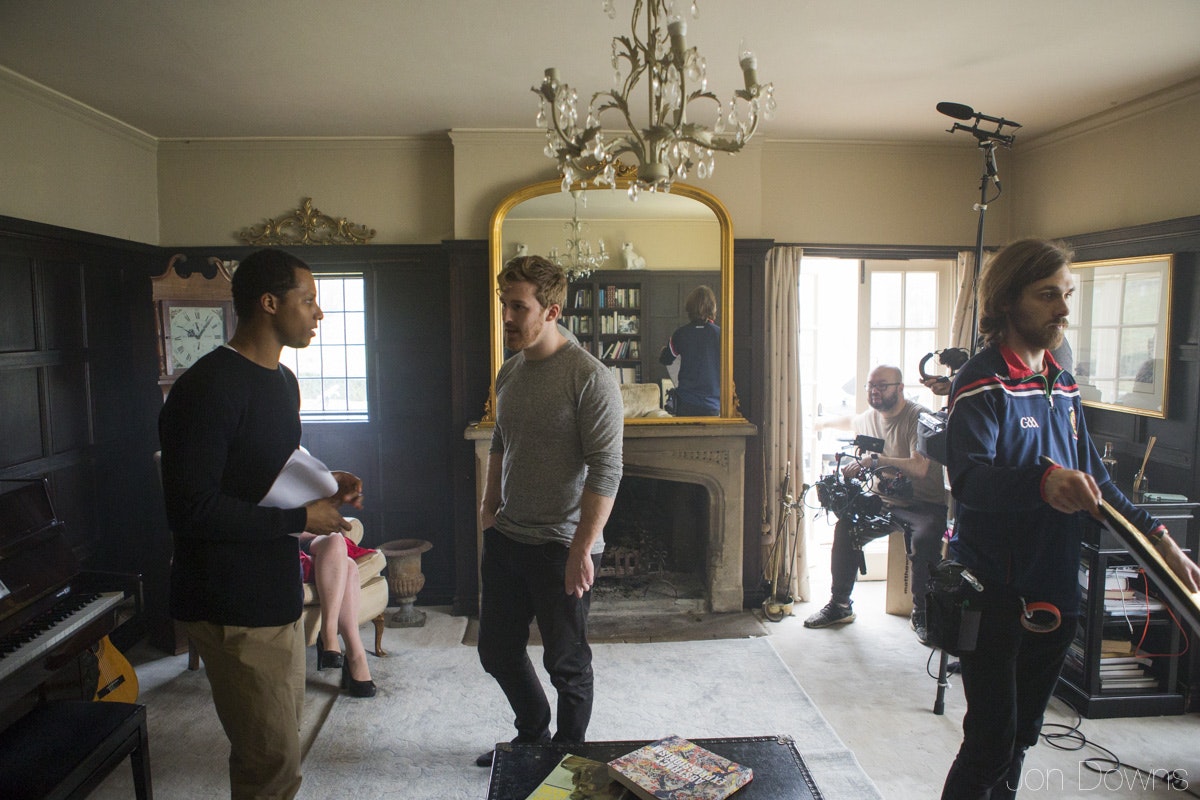 Development

Sigh of the Sea Writer (Feature)
Banana Skin Films/Foot in the Door Films

Beneath the Mind Writer (Feature)
Microwave with Film London/BBC Films/BFI/Ozone Productions
Film London Microwave Shortlist 2016

Arthur & Clara Writer/Director (Feature)
Final Draft Big Break Contest Quarter Finalist 2016

Productions

Call It a Day Director (Web Series)
Call It a Day Productions

She's Just a Girl and So Am I Writer/Director (Feature)
FITA Films
Official Selection Madrid Indie Film Festival 2019 - Nominated for Best Featurette
Official Selection Oniros Film Awards 2019 - WINNER for Best Silent Film
Say Your Name Writer/Director (Short Film)
ItsOriane Ltd
Official Selection Oniros Film Awards 2019 - Nominated for Best Short Film
Official Selection Unrestricted View Film Festival 2019 - Nominated for Best Director
The People's Short Film Festival 2019 - Semi-Finalist

Those of Us Writer/Director (Short Film)
Urban Crane Films
Official Selection VOB Film Festival 2019
Official Selection Under The Stars International Film Festival 2019
Official Selection East Coast Film Festival 2019 - Nominated for Best Short
Official Selection International Short Film Festival Pune 2019

Soft Hands Writer (Short Film)
DJK Films
Official Selection West Europe International Film Festival 2019 - Nominated for LGBTQ Award
LA Cinefest 2019 - Semi-Finalist
Official Selection Rainbow Umbrella Film Festival 2020
Official Selection North Europe International Film Festival 2020 - Nominated for LGBTQ Award

Just Saying… Co-Writer/Director - 3 Episodes (Web Series)
ItsOriane Ltd
LA Cinefest 2019 - Semi-Finalist
Official Selection Unrestricted View Film Festival 2019 - Nominated for Best Web Series

Finesse (Refix) - Lucien Moon Director (Music Video)
Urban Crane Films
See You When Winter's Over - Ione Director (Music Video)
Urban Crane Films
I Love You - Kam Singh Director (Music Video)
Urban Crane Films

Recollections: August, 1957 Writer/Director (Music Video)
FITA Films

The Wife Writer/Director (Short Film)
Filmbourne/Ozone Productions
…and counting Writer/Director (Short Film)
Filmbourne
The Pale Cast of Thought Writer/Director (Short Film)
Filmbourne

William Shakespeare's Venus & Adonis Writer (Short Film)
Lui Films
Cannes Film Festival 2015 - Courts Métrages

Free in the Afternoon Writer/Director (Short Film)
XXI Productions
Cannes Film Festival 2015 - Courts Métrages

Screenplays

On This World
(Feature Film)

Black Type
(Feature Film)

Appleseed
(Feature Film)
Adapted from the Manga by Masamune Shirow
Peer
(Feature Film)
Skinny Jeans
(TV Series)
Why Russia?
(Feature Film)
Early Retirement
(TV Series)
Bar Staff
(TV Series)
Flexible Shifts
(Feature Film)
The House and Mind of Norah French
(Feature Film)

Chained
(Feature Film)

Amos
(Feature Film)

Death Note
(TV Series)